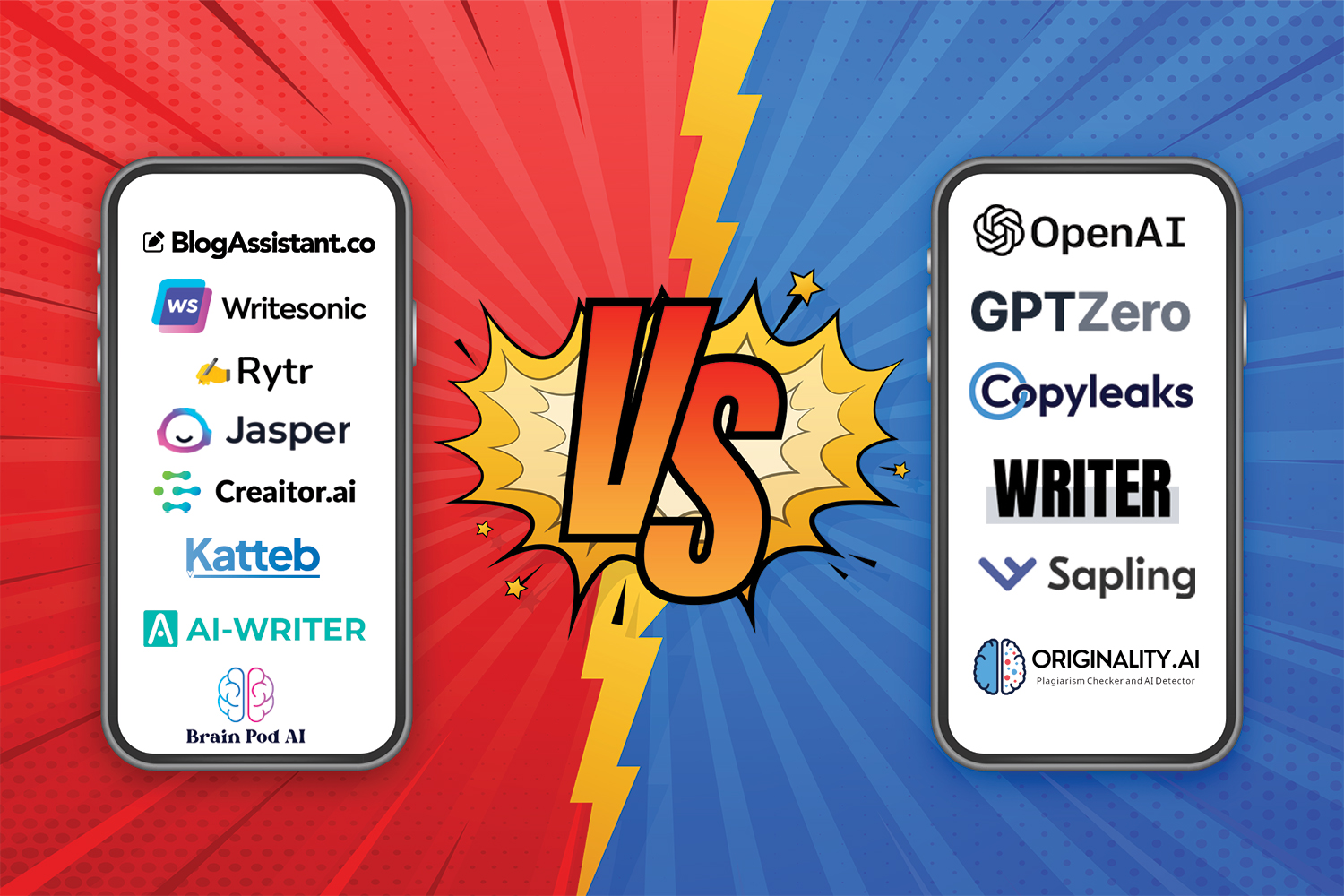 Updated 30/05/2023.
Are you a content writer struggling to get around AI-based detectors and filters? Or are you a digital marketer looking for the ultimate tool that can bypass all AI detections in one go? Either way, this blog post is here to help you! In this post, we'll be discussing AI writers versus AI Content Detectors. We'll compare their features and functionality, show how they work together, and explain why using both can be beneficial. Finally, we'll reveal an amazing new tool that will enable you to bypass all AI detection with ease! Let's dive right into it – no more time wasted trying to figure out which tool is best suited for your needs.
1. What Are AI Content Writers
2. What Are AI Content Detectors
4. So What's Going To Do Google And Others About It?
5. A Big Comparison: AI Content Writers And AI Content Detection Tools
1. What Are AI Content Writers
AI content writers, also known as AI writing tools or AI content generators are pieces of software powered by Artificial Intelligence that generates text which is based on the user's input. These AI writers can produce a text which has a human-like quality to it, taking advantage of sophisticated AI technology. Natural language processing and machine learning algorithms can give authors the capacity to construct compelling material in a more rapid and accurate manner. AI content authors can be a great advantage to companies, allowing them to produce material that is up to date and applicable to their target audience. This innovative technology is set to be the future of content development, and every businesses generating any type of content marketing should contemplate taking advantage of this technology.
2. What Are AI Content Detectors
The power of AI-generated content detectors is something that many businesses, organizations, and individuals are leveraging in order to guarantee that the texts they produce are unique, authentic, and created by a human. These detectors can rapidly sort through large amounts of data, and with a high level of accuracy, recognize AI-written content. By deploying these detectors, organizations can be sure that their online content is composed by individuals and not automated systems. But, how effective are content detectors as of today? And why does it even matter?
3. Why Does It Matter?
Crafting an ordinary 2,500-word article or blog post from the ground up typically takes an average of 6 to 10 hours for the average article author, as revealed by recent research. This implies that a conventional blogger who needs to publish 3 SEO blog posts per week, will expend anything between 18 and 30 hours or more of typing. This is a tremendous amount of time devoted to content creation, and it is not practicable for a lot of content marketers, so they usually look for the services of freelance writers. But this can be costly..
The average price for one word of SEO written article can range from $0.02 to $1. Hence, a 2,500 word article will cost anything between $50 to $2.5k! By taking advantage of AI writing tools, content marketers and agencies can save both time and money, since these solutions can generate thousands of words in just a few minutes. A lot of them are even free to use, or cost a very small fee compared to hiring human writers. It is crystal clear that it is sensible for content marketers and publishers to use AI writing tools. Nevertheless, utilizing AI content has numerous drawbacks.
Google is consistently striving to give the users the most suitable search results. A prime part of this optimization is to avoid displaying low-quality content, which includes, in some cases, AI-generated material.
Google has not declared that they are discriminating between AI versus human-written content. However, in the conversations there have been concerning AI-generated material, even before ChatGPT was launched, they have specified that they are not fundamentally against AI content but rather focusing on if it is helpful content or not.
The Google speaker mentioned that while certain people in the company have cautioned that Google will consider AI-generated material to be spam, they were particularly referring to bot-written material planned to manipulate the search engine's system. Actually, they said, AI-generated content isn't forbidden fundamentally — but any content designed with the chief purpose of increasing in search rankings is still against the company's spam rules, and ready for a crackdown. Besides, Google is already working on its own AI-content detection tool!
4. So What's Going To Do Google And Others About It?
In the near future, Google and other main platforms could potentially begin to penalize or block AI-generated material. This puts AI content production tools in a precarious position, since not much of them are able to bypass the current AI content detectors available. What will become of all the articles that have already been generated and won't make it past the AI detectors? And what can be done to protect the reputation of writers? Only time will tell, however who would chance being blocked from search engine optimization and websites due to AI-generated content if there is an option to take preventive steps? Let's take a look now at the big battle of writers tools and AI content detection tools!
5. AI-writers And AI Content Detection Tools Big Battle
We used for comparison purposes the following methodology. Every AI-writer tool has produced three articles on separate topics in the maximum possible length achievable by certain writer and these have been tested using AI content detectors. Each detector/writer has three results representing one article topic. The results can be viewed in the accompanying matrix.
Topics were:
Life of Squirrels
SEO Optimisation for E-commerce
Basics of Global Politics
Note 1: AI writers have different capabilities in terms of the length of produced content, so some could generate a few hundred words only while others a few thousand words. The length of the generated text was not considered even though longer content articles might be at a disadvantage in this case.
What kind of rating did we use? See details below for AI-article writers and also for AI-content detectors.
A Big Battle: AI-Writers vs. AI-Content Detectors
Detailed results of individual AI-detector checkers and AI writers can be reviewed by clickin€g on the name of the actual AI content detector or writer. Please note that you will be redirected to a specific AI-content detector and writer report page on BlogAssistant.co blog portal.
6. Results & Conclusion
Below is the final ranking of AI-writing tools based on the score and AI-content detectors based on the score.
AI writers are ranked from the least to the most detectable. You can get more information about tools by clicking on individual writers. Note, you will be redirected to a specific AI-writer page on BlogAssistant.co blog portal.
AI-content detectors are sorted by ranking from the most efficient in identifying AI-generated content. You can get more information about tools by clicking on individual AI-content detectors. Note, you will be redirected to a specific AI-content detector page on BlogAssistant.co blog portal.
In conclusion, comparing eight AI-writing tools and six AI-content detectors has shown that Blog Assistant is the only non-detectable writer with 100% bypass rate. On the other hand, Originality.ai was the most successful AI-content detector, detecting majority (89%) of all generated content except content created by Blog Assistant. The results of this comparison demonstrate that while some AI writing tools can produce undetectable content, others will still fall short in evading certain content detectors.